About Us
Our Story
Step off the square and into a whole new Madison. Just seconds from the Capitol, you'll find the city's most exciting dining experience. It starts with our menu that spans continents and goes far beyond sushi. It's echoed in our bold interior design and presented to you by our knowledgeable staff, dedicated to exceeding your dining expectations. The sculpted interior space is the perfect place for you to relax in the lounge, grab a romantic dinner or overwhelm each of your senses with an exclusive dinner at our chef's table. Every moment at RED intends to create a memorable experience and one you come back to again and again.
Co-Owners Tanya Zhykharevich and Jack Yip might seem like an unlikely pairing to develop a restaurant, but this pair from the opposite ends of the planet has come together to create one of Madison's most exciting restaurants.
When they opened in 2011, it was both founders' first foray into starting a business. With Jack as the executive chef and Tanya behind the scenes, RED became the restaurant they wanted and the one they felt Madison needed. The duo's desire to create a dining experience that was more than great food brought RED initial success. Tanya and Jack's commitment to their vision has now led them to restaurant's exciting new location, and it keeps RED at the forefront of fine dining in Madison.
Meet Our Team
Tanya
Owner
With her mother's excellent cooking always in mind and her father's intuition and execution skills, Tanya immigrated to the United States from Belarus in 2005. With her degree in Engineering in Automation and a passion to learn and grow, she began her service career in Chicago. After some time and developing her skills, Tanya moved to Madison with excitement and big dreams.
It was here in Madison where she met her business partner, Jack. On little operating experience and a humble savings account, together they opened RED on King Street in 2011. Tanya was dedicated to achieving her goal in creating a dynamic, exciting dining experience and achieved this through perseverance and constant learning. Now, after upgrading to a larger space, Tanya focuses on teaching her staff to push their idea of hospitality to the highest degree.
Although the bustling restaurant and her passionate personality surround her, Tanya is an introvert at heart. She enjoys spending her free time with her dog Cocoa, a glass of wine, and a great book.
Jack
Owner
Jack Yip's journey to Sushi Chef and Co-Owner of Madison's RED is as unique as his edible creations. It was inevitable that he would arrive on the scene as pioneer Chef in his field. As a young child, Jack was exposed and guided by his mother, who in her own right was a great cook; teaching him the importance of fresh ingredients and how to eat consciously. Always enjoying a challenge, Yip began to study with culinary experts, Satoshi Wakamura to sharpen his skills. With dedication and close attention to detail he began to develop a keen eye and love of Japanese cuisine. His attention then and today focuses on the marriage of traditional techniques and modern global cooking.
Madison, WI became the place where he could begin to bring his dream of raising the culinary bar to life. Noting that the food culture in the Midwest was building, he didn't hesitate to think bigger and work to develop a menu for a wide range of palates skillfully as he prepared for the second incarnation of RED's menu as it is today. Chef Jack loves to pay attention to culinary trends, food and dining esthetics, while maintaining his passion for creative and beautiful cuisine.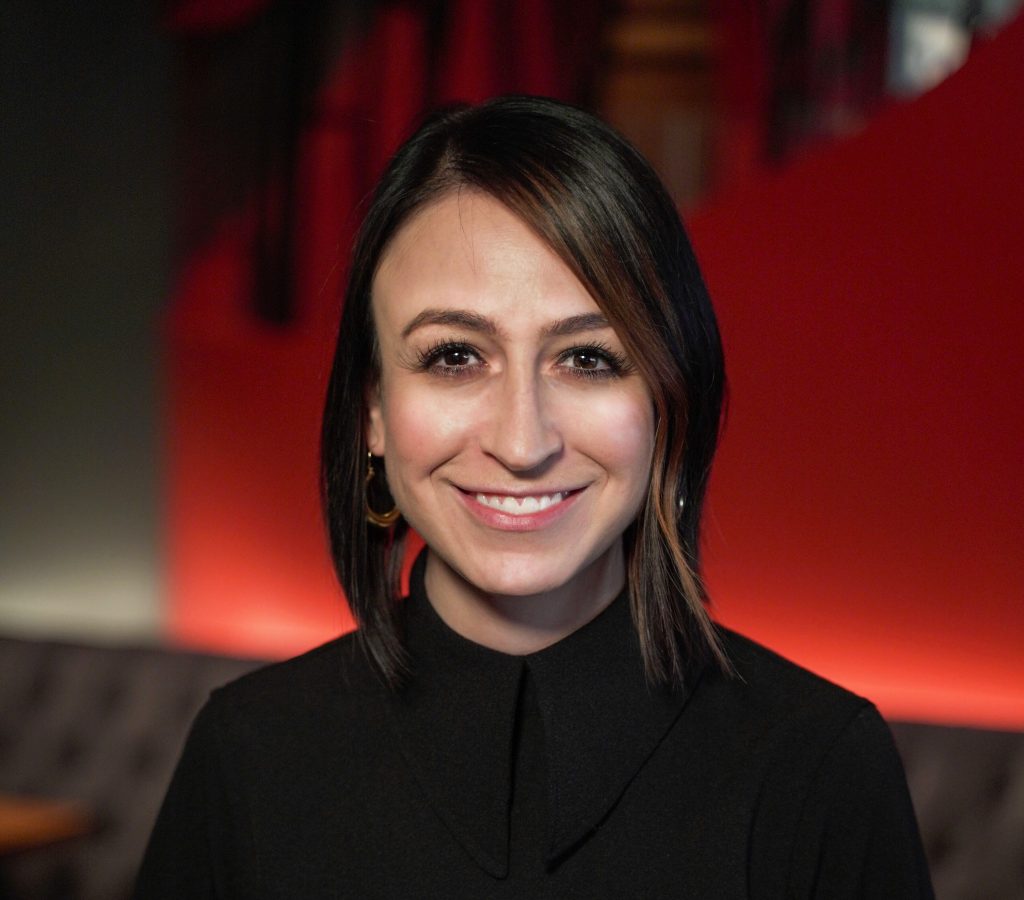 Taryn Johnson
Operations Manager
Taryn, with an understanding of fine dining and exceptional service, has worked in the restaurant industry since high school. After obtaining her bachelor's degree in Journalism she went on to work with restaurants in the notable BOKA Group and Lettuce Entertain You in Chicago. During May of 2017, Taryn joined RED as a floor manager. Her wisdom, patience, and knack for superior service brought her to her current position as RED's Operations Manager. When she's isn't choreographing a beautiful service plan, you can find her dining and enjoying every minute of her experience. A little known fact is that Taryn has the ability to beautifully describe her favorite charcuterie and love of Chateauneuf-du-Pape in intoxicating détail.
Allan Walker
Front of House Manager
Lord Allan Walker first joined RED in 2021 as a part of our service team. He returned in May of 2022 with his sights set on a management position. Fun fact about Allan – he really is a lord! Allan brings experience from local restaurants, L'etoile and Rare Steakhouse, as well as several Chicago area restaurants including Mike Ditka's Steakhouse. His favorite thing about the restaurant industry is the people! He loves seeing the smiles on guests' faces after an enjoyable meal. Allan brings magic to the dining room floor – literally. He's a magician. Make sure to request a magic trick the next time you see him at RED!
Mara Bakken
Front of House Manager
Mara joined RED in May of 2018 as a server. Her experience and vast knowledge of our service standards and team brought her to her current position as a Front of House Manager. When asked what do you love about the restaurant industry, Mara responded "I absolutely love the energy found in a bustling restaurant on a busy evening. It's an explosion of sensory experiences that place you fully in the present moment, for guests and staff alike. A restaurant cultivates an environment for new tastes, smells, sounds, ideas and experiences that ultimately set the stage for novelty and genuine connection." Mara is an avid adventurer and previously worked as an English teacher outside of Paris at Lycee Camille Claudel in Vaureal. When Mara is not at RED, you can find her on a long walk or bike ride, nose deep in a good book, or spending time in her garden harvesting vegetables to cook a delicious meal that is likely to be shared with family and friends.
Carolyn Eschmeyer
Accountant and Human Resource Manager
Carolyn obtained her Master of Business Administration (MBA) in Accounting from Aurora University and has worked as a professional accountant for the past 17 years. She joined RED in March of 2017, using her expertise to provide strategic direction for the company. Carolyn is a wizard at creating spreadsheets, but life isn't always data-driven. She also enjoys spending time with her husband and four children, whether it's embarking on their next adventure or spending time by the pool. Carolyn is also an avid quilter noting her favorite creation is a bug quilt she crafted to match her daughter's treehouse-themed bedroom.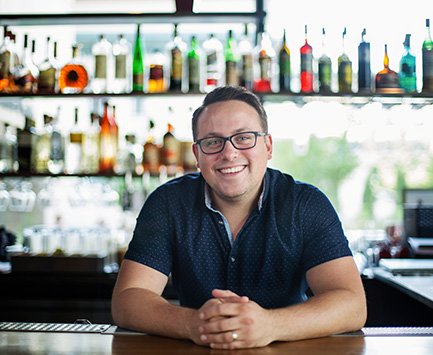 Justin Bondurant
Bar Manager
Although raised just outside of Madison, Justin has made it his goal to travel whenever possible to expand his palate and stories. He has held various positions in the restaurant industry for over 14 years, beginning as a barback for a local cocktail bar during his stint in college. Justin excelled as a creative in the field. His curiosity, passion, and genuine personality drove his inventiveness in many artistic outlets such as drawing, painting, and music. Gathering inspiration from new destinations, Justin has applied many unique flavor profiles to our part of the world of craft cocktails and spirits. When RED expanded to its new location, Justin was asked to join the bar team. His experience curating exciting beverages and menus has elevated RED's spirits program to new heights.
Jimmy Madla
Culinary Director
We're excited to welcome Chef Jimmy Madla to our team as the Culinary Director for RED and Jacknife! Jimmy brings a wealth of culinary expertise to our organization with previous experience as a Culinary Consultant at Leo Burnett, Executive Chef in Research & Development at Home Chef, and Chef/Owner of Coobah Restaurant in Chicago. Jimmy will oversee all food operations and culinary initiatives for our growing company.
Salvador Luna
Sushi Sous Chef
Salvador Luna has been a key player in creating the elegant rolls and plating at RED beginning in 2012. Prior to working with RED, Sal worked with sushi and hibachi to obtain and expand his creative artistry. With an expert palate, skilled knife work, and dedication, Sal continues to raise the bar at RED with his joy, design, and intricate details. A family of coworkers and guest excitement over the beauty of the food are what motivates Sal in his position. In his world outside of RED, Salvador is a caring father of two and a player of many instruments including vocals and guitar for his ska band – Los Meskales.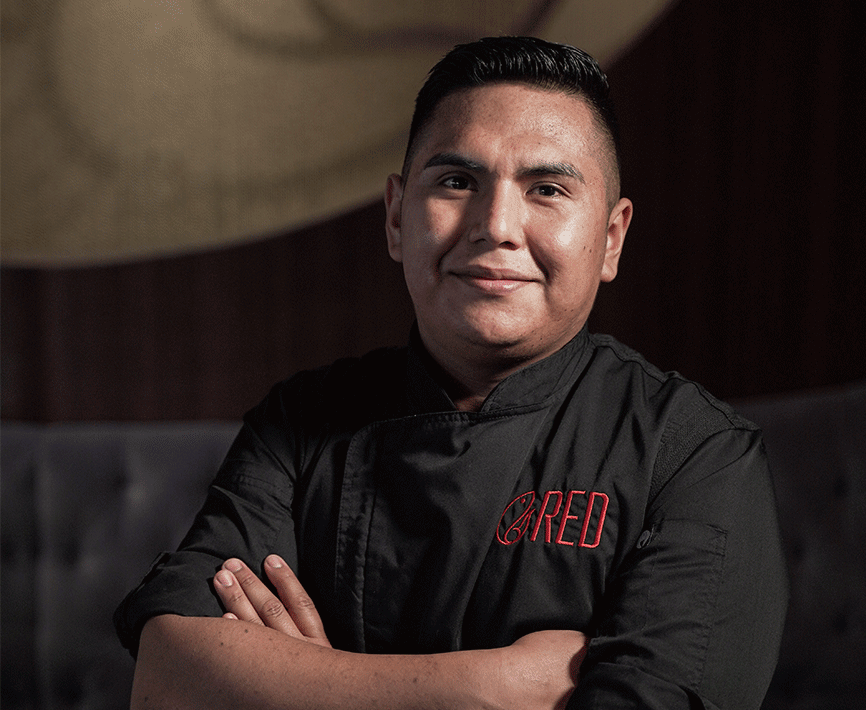 Francisco Lopez Xelhua
Sushi Sous Chef
Francisco is one of RED's most tenured employees. Starting as a dishwasher at our former location on King Street in 2013, Francisco worked his way up and is now an integral part of our sushi team. He attributes his growth to Salvador Luna who encouraged him to learn the art of sushi. Francisco's favorite part of the job is breaking down whole bluefin tuna – it's a remarkable experience to see him in action! If you've ever dined at RED, you've probably seen a chef's choice dinner beautifully presented by him. When Francisco is not rolling sushi, he loves to stay current on all sushi trends and enjoys watching other sushi chefs master the art on YouTube and Instagram. Francisco's talent also shines in his music – he plays the bass for a local band.
Annie Ngo
Sous Chef
Annie has been with RED since January of 2022. Fun fact – Annie applied to RED because the color red is considered a lucky color in Vietnam. Growing up in a Vietnamese family, food was what brought her family together. Annie started cooking with her mom and grandma at a young age and eventually turned her passion into her career. Annie's favorite dish to make at home is pho because it reminds her of her Grandma Hao – her role model and mentor in the kitchen. When Annie is not cooking, she loves dancing at concerts and hiking with her two Jindo Shiba Inus, Mojo and Kudo. She rescued Mojo and Kudo from Last Chance for Korean Dogs, a non-profit rescue that finds forever homes for dogs in Korea and the US. Can you spot Annie's cherry blossom tattoo? It's her favorite tattoo because the flower is often seen during Tet, or the Vietnamese New Year… and the tattoo just so happens to be RED, our favorite color.